Garden Ornaments
Add the finishing touch to your garden
When decorating your garden with garden ornaments, the possibilities are endless. Before you purchase any garden statuary, think about what kind of garden you have. A really small garden, might need a simple bird bath, or bench, to complete it. A medium sized garden would look great with a few garden ornaments, including a bird bath, and a bench. A large garden, could have more to give it that finishing touch.
If your garden is very formal, consider garden statuary that is appropriate. Let the garden ornaments set the mood of the garden. If you want a rustic, country garden, use simple statues, and whimscal garden decor. Very formal gardens would have large fountains, and Greek Statues.
I like my garden to have the feel of a romantic English garden. (Formal, but not TOO formal. I ocassionally add a bit of whimisy for fun!
I added this metal bridge to my garden last year. I haven't really finished what I want to do with it yet, I invision a dry stream bed, with tall grasses on the side, and miniature roses around it. Just have to find the time.....(for hubby to do it!)
It makes a lovely picture spot just as it is!
Garden Ornaments can be made from all kinds of material. I've learned through the years, that being in zone 5, I can't leave much of it out in the snow all winter!
The metal pieces do o.k, but most of my cement statues, have to be brought inside to protect them.
Depending on the price you pay for the piece, will generally tell you if it will stand up to the elements or not. Ask the manufacturer when you purchase it! View and purchase beautiful Garden Fountains Here
Garden statues like this one, get brought into the shed every fall.
Every couple of years, I give it a fresh coat of white paint, to help protect it, and spruce it up. Notice how it stands out against the red Japenese Maple? See how the varigated Hostas frame it?
Stand back, and look around your garden, as you decide where to place your garden ornaments. Placement in the garden is very important!
This gazing globe looks delicate, but is actually very tough, I leave it out for winter interest. This is in mid January!
Garden Gnomes always find a spot in my garden. I like to put them in a shaded woodsy area, usually putting a smile on the face of a garden visitor.
My squirrel also adds some whimsy!
Beauty all Around!
This is one of a pair of cement statues, that sit in the corners of a hosta edged garden. Each year I plant them with bold trailing flowers. I usually always put in some Wave petunias, because I like the look of them spilling out of the planter. I get different colors each year, put my favorites are the light pink ones.They grow pretty fast, so the color starts early.
I sometimes find these ornaments at the local Flea market, or even tag sales.
This statue of Mary was a Flea Market find.
This wrought Iron spiral stair planter was another find from the local Flea market.
At the back of the rose garden,sits my wrought iron tea table for two, where I sip iced tea and ponder what area of the garden needs my attention!
Find more Garden Containers A Sundial makes a great garden ornament!
This garden urn always gets planted with a pink "Wave Petunia" These petunias are not your grandmothers petunias! They really do grow in waves! One year they re-seesed, and formed lovely clumps around a bench. I left them alone, and they happily grew bigger and bigger all season!
When planting annuals in any type of urn or pot, make sure there are drainage holes in the bottom. To much water, and the plant will die.
And don't forget to give it plenty of fertilizer if you want lots of lush flowers.



Wondering where to find items like these? Shop Garden.com
Another great way to find stuff for your garden is to check the Free Classifieds from USfreeads! No matter what state you live in, you will find things for sale (or place your own FREE classified ad, if you have something to sell!)
Bird baths
Bird Baths come in many forms and materials from concrete to metal.
No matter what your preference, be sure to get a bird bath for your rose garden! They are not only ornamental, but they offer drinking water (and baths) to our feathered friends!
It's your garden, make it uniquely YOU!
This old sink is right at home in front of my Seven Sisters bush.

Solar Gazing Ball
Solar Gazing Ball Solar crackle glass gazing ball. Beautiful day and night. Automatically lights up at night for up to 10 hours. Switch to choose bright white or colorchanging LED. 8"W x 8"D x 18"H overall. Resin base.

Antique Bronze Sundial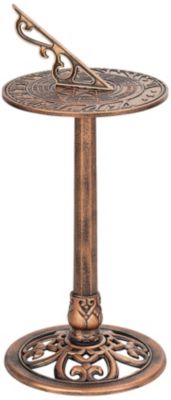 Antique Bronze Sundial Tell time by the sun.Includes base center column and sundial hand14"W x 321/4"HPolyresin with antique bronze finish

Over The Coop Wind Vane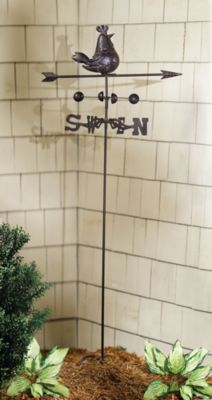 Over The Coop Wind Vane Add character to your weather watching.Letters for all North South East and West with a proud rooster on topBrushed bronze221/2"W x 151/4"D x 621/2"H


Guiding Light Solar Lighted Yard Art
Guiding Light Solar Lighted Yard Art Bring light to your yard in the darkest of nights.Features young boy piggybacking little sister holding a lanternAmber LED lightResin73/4"W x 61/4"D x 151/2"H



Wooden Bridge
Wooden Bridge Add character to your backyard.Decorative bridgeFir wood with handburnished finishApprox. 30 lbs.59"W x 271/4"D x 213/4"H

Little Girl Fountain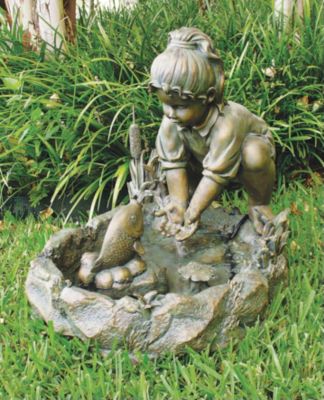 Little Girl Fountain Add a touch of fun to your garden.Features girl leaning into pond catching fishFish serves as spitterBronze finishM60 pumpApprox. 223/4?W X 18?D x 211/3?H


Back to Top

Fairy Garden Ornament

Go to Garden Urns

Go to allaboutrosegardening Home Page